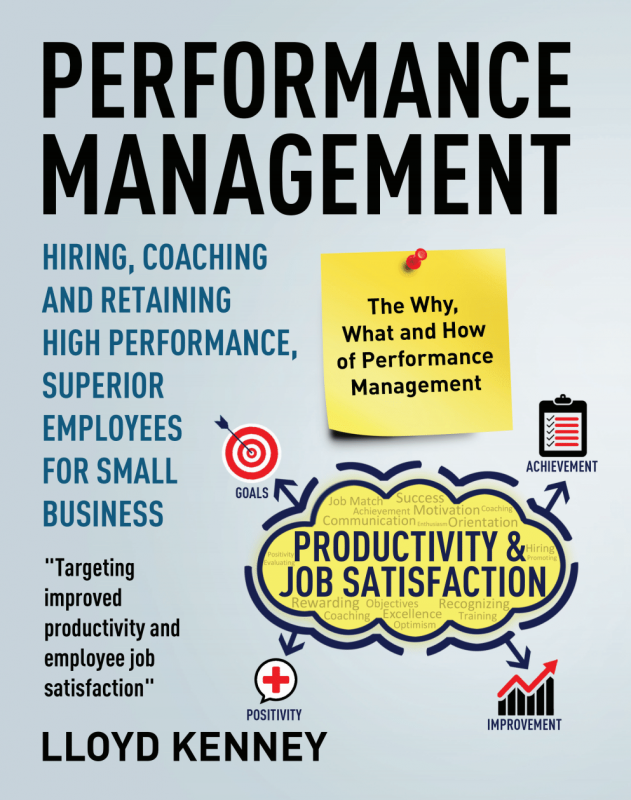 Hiring, coaching and retaining high performance, superior employees for small business
Owners and Managers strive for performance improvements. This includes the performance of individual employees, the performance of the team and the performance of the organization. It could be in the manufacture of widgets, the marketing and sale of those widgets, or handling the administrative duties related to those widgets. This book represents the culmination of over 20 years of experience working with businesses in over 20 different industries to improve productivity and efficiency in all areas of business, resulting in improved overall performance.

Order Now!
About the Book
Owners and business managers require simple management tools to improve productivity; most don't have Human Resource specialists on staff, especially those with fewer than 100 employees. A custom program that is simple to understand, develop and implement can reap huge rewards.
The program presented here outlines the three key factors in improving overall performance:
1) Why a Performance Management program is essential and beneficial for both employer and employees;
2) What components are needed to develop your own custom program;
3) How to use these tools to develop and implement a program to suit the needs of your specific operation, with the forms and documents you need for each component.
This program has been used to create complete programs for businesses in more than 20 industries to improve productivity and employee job satisfaction.
Endorsements
"We engaged Lloyd to assist us in preparing job descriptions and performance reviews a number of years ago. The results were amazing and included employees being more effective because they were more focused and happier as expectations were clear and Lloyd engaged them in participating in the process of developing their job descriptions and related performance reviews. Every company should employ this system every 5-10 years as organizations and processes change over time."
"It has been my pleasure to have worked professionally with Lloyd Kenney for over 10 years, his dedication and knowledge regarding the services he provides have been exceptional. He is reliable and delivers what he promises, I would highly recommend Lloyd."
"In his new book on Performance Management, Lloyd Kenney presents practical measures that easily can be implemented by small and medium-sized businesses anywhere. With decades of experience in various employment and managerial positions and more than 20 years assisting various businesses and organizations to improve their productivity, Kenney presents his ideas in 28 clear, crisp chapters structured around the themes of why a performance management system is important, what it is, and how it should be developed and implemented. The book focuses on the importance of improving performance of employees and, ultimately, the financial success of small and medium-sized firms. Personal experiences, integrated with insights from a large number of academic management texts, provide a series of practical measures that could help business owners and managers (even those in the non-profit sector) improve their recruitment procedures, encourage and evaluate employees for improved performance, and, in so doing, improve the bottom line. The book is well written, easy-to-read, and full of helpful ideas, especially in times of economic downturns. Owners and managers, in their perpetual struggle to survive while other firms around them are flailing or outright failing, should read this book."
– Kurt Klein, PhD, Professor of Economics, University of Lethbridge
"Lloyd has an intuitive grasp on effective planning and guidance to company owners needing employee management systems."
"Lloyd's Performance Planning System is an excellent way of aligning the Job Descriptions and expectations of a company with their accountability process. The system is easy to set up and use, and the team members know exactly where to put their efforts for the good of the company in a way where they will be rewarded for their actions."
Disclosure of Material Connection: Some of the links in the page above are "affiliate links." This means if you click on the link and purchase the item, I will receive an affiliate commission. I am disclosing this in accordance with the Federal Trade Commission's
16 CFR, Part 255
: "Guides Concerning the Use of Endorsements and Testimonials in Advertising."